Industrial steel fabrications and closed-die forgings
Scroll down to learn more!
Company
Forge LT is a family-owned Lithuanian manufacturer of industrial steel fabrications, components and closed-die steel forgings with a team of around 95 people.
We have always focused on close relationships with our partners, doing our best to grow and improve together. This remains our core value and mission in today's extremely competitive and unpredictable market.
It may be a bold thing to say, but we believe that the metalworking industry is lagging behind other business sectors in terms of innovation, digitalization and the general speed of day-to-day improvements. And that's where our vision comes from – we want to be an example and show that metalworking companies still have it and can actually innovate and surprise.
Forge LT is not at that point yet, but we will get there.
Lithuania: North Europe
Engineering workshop
EN ISO 9001:2015
Quality management
EN ISO 14001:2015
Enviromental management
EN ISO 45001:2018
Health&Safety management
EN ISO 3834-2
Welding procedures
EN ISO 9606-1
Welding qualification
1
2
3
4
5
6
7
8
9
10
11
12
13
14
15
Forging workshop
EN ISO 9001:2015
Quality management
EN ISO 14001:2015
Enviromental management
EN 10243-1 Class F
Forging standard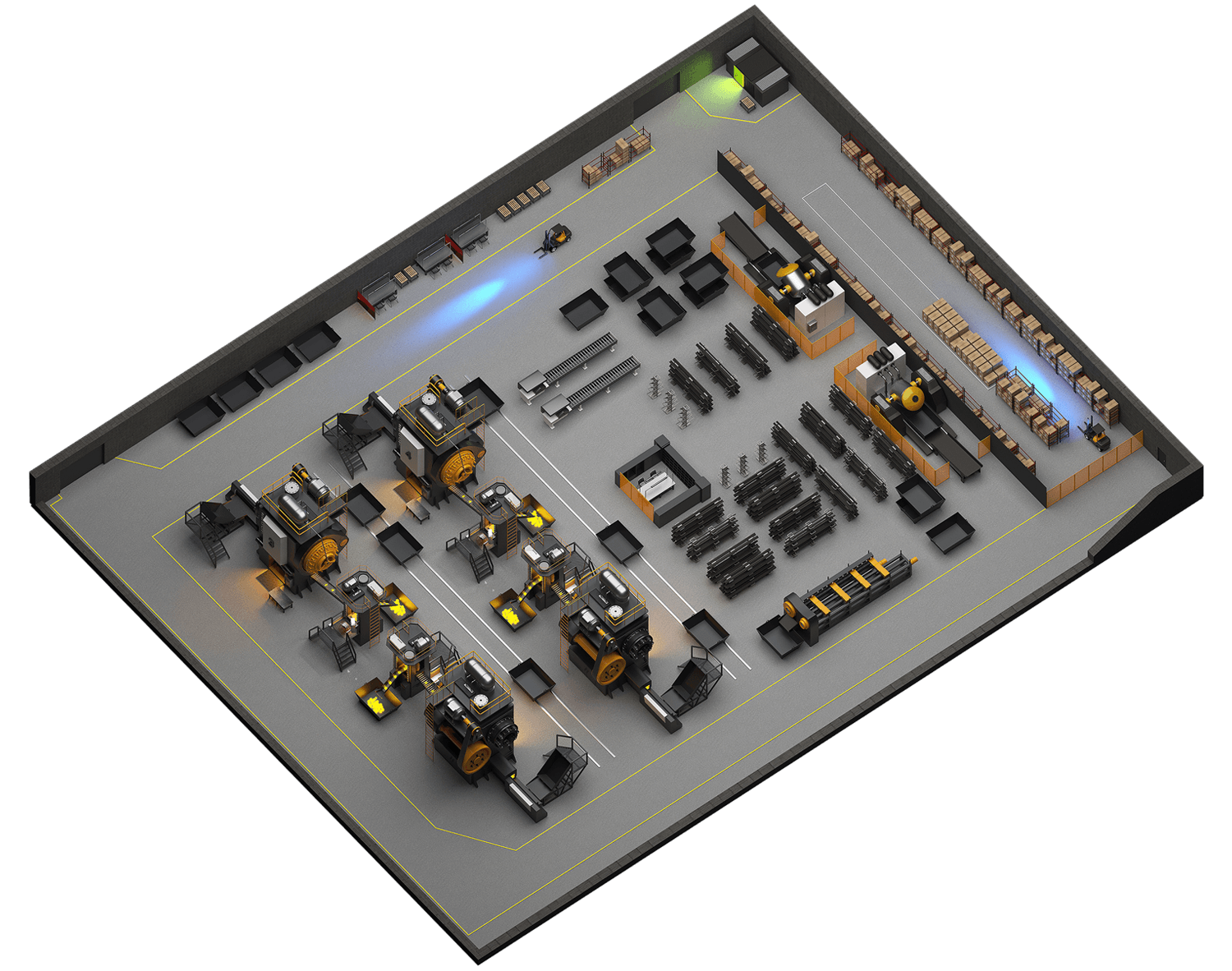 1
2
3
4
5
6
7
8
9
10
11
Export countries
We export more than 90% of our total production, and we are quite proud of this. We want to believe that this represents our competitiveness in the European market and in some way, market appreciation for our quality and delivery performance level.
Most of our production is exported to our valued partners in the North – Finland and Sweden, followed by Poland, Germany and other European Union countries.
55%
Northern EU
25%
Western EU
20%
Central EU
FLNM ■
export_countries.frg
■ ■
Commitment to communication and delivery excellence
Industrial steel fabrications
You take care of R&D for new industrial machines and we will take care of manufacturing – that's our offering. Our core expertise is the production of various steel fabrications and components according to customers' specifications and drawings, mostly for complex welded and machined structures as well as sub-assemblies.
Our main competitive edge is a healthy mix of versatile in-house capabilities, meaning we can do most of the production in-house, which ensures flexibility and more control over quality and delivery performance.
We also help our partners with engineering challenges, manufacturability studies and, in general, we try to close the "gap" between product designers and people who eventually manufacture the product.
5t.
Lifting capacity
4x2x1m.
Machining size
Carbon steel
Material
Learn more
Click_here
Closed-die steel forging
If you need a forged steel component of up to 8 kg and your annual quantity is in thousands, we can probably help you.
We will take care of pretty much the entire production chain including pre- and post-forging processes – procurement, tool design and engineering, machining, surface treatment, inventory management and logistics.
With 4 fully equipped and recently upgraded production lines (2500t. forging presses), we produce around 1 million parts per year and use our extensive and well-trusted network of partners to take care of both machining and surface treatment.
8kg
Max weight
280mm
Max length
Steel
Material
Learn more
Click_here
FLNM ■
services_forging.frg
■ ■
Industries
Truth be told, sometimes we have no idea where and how components produced by Forge LT factories are going to be used. But we do know what kind of machines and products our partners produce and we are proud to be a part of that.
We are very happy with the diversity of our production portfolio, which includes at least 6 different industries and we believe all of these industries have a bright future ahead. Working with diverse and off-cycle industries was always our strategy, allowing us to move forward in a relatively stable way.
Mining and conveying
Agricultural machines
Heavy machinery
Machine building
Hydraulic systems
Automation systems
FLNM ■
industries_we_serve.frg
■ ■
Visit us. Visit Lithuania.
Remote meetings, emails and virtual tours are great ways to start doing business, but although we are all about digitalization and a modern approach, we still believe that good old face-to-face meetings are essential for fruitful long-term business and personal relationships.
We invite you to come and visit us. You don't have to worry about anything – renting cars, looking for hotels, etc. – we will take care of that. Just book a flight and visit us.
Even if we find that there is no potential to do business, at the very least you will get to visit Lithuania and our hidden European gem – Vilnius. It's a win-win situation!
Vilnius
Capital of Lithuania